Lots of shopping going on here. Trying to get BJ to not buy anything for himself this time of year is like yanking teeth! The boy doesn't know when to stop shopping. hehe I have been busy buying Christmas presents with what little money we have (talk about massive bills) and doing trades on Etsy! I am definitely up for doing Trading for the Christmas season! This is my Trade Friendly section:
Trade Friendly
My bunnies are almost 1 year old. Well, sort of. January 25th the little furry monsters will be 1 year old. Honey Bear and Sir Flopsalot (the parents) will be two years old this coming year. They are so much fun. The two boys Mischief and Peanut are *so attached* to me. We don't keep our rabbits outside in hutches - they are all indoor bunnies. We have to keep Peanut and Mischief separated from the other four because Sir Flopsalot has "domain" over the three girls and is very territorial - so the three boys would fight. The four bunnies stay in a large floor play pen that is probably 5ft x 4ft - while the two boys have a hutch. We bring Peanut and Mischief out daily to let them run around the house. They follow me like lost puppies. No matter where I am, they have to be with me. If I'm on the couch - they jump on the couch and stay there. If I'm in the kitchen, they are follow me into the kitchen. I've never met two rabbits that are so in love with their human owner. I guess a lot of that has to do with that they were hand raised (the four babies) by me and my husband. Female rabbits, I've found, are just naturally more independent - but all the boys have been extremely attached to us.
Here is a really cute picture of Mischief and J.C. (JC is a girl) at just a few months old. They are all so soft and fuzzy - lion head bunnies, dwarfs.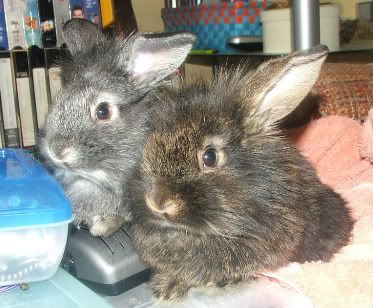 Other then bunnies, I finished a custom order this week for a lady in TN. She was such a pleasure to work with, and I am really happy with how the piece came out. It reminds me of winter, ice, and snow. Very magical and majestic piece.
Other then all that - BJ has been frantically working on the puzzle jewelry, I've been working on tile and glass pendants. I will end this entry with my Etsy mini and I hope that it posts!